Do you dream of taking off to Europe for the summer or planning a month long missions trip to India or a faraway place but are worried about leaving the office for that long?
It's no secret that hiring a virtual assistant can free up your time from having to hire, train and maintain an in-house assistant, just to do it all over again and again. But together with the latest technology, they can help you make that dream come true!
In fact, in the last two years we have seen a growing trend among our advisors that not only take the traditional two week vacation but they are now taking extended month-long or longer –trips to places most people only dream of.
With just a few changes in the way they do business, it is all possible!  I'll give you a sneak peek into some of the changes advisors are making to make these dreams reality.
MOBILE APPS
Mobile apps aren't new, but today there seems to be an app for EVERYTHING and they can do anything a desktop or laptop computer can do. These applications work anywhere, so you can check your client's investments while standing in line to be hooked up to a zip line, or rock climbing at a National Park. These apps make it possible to work outside the office and still service your clients.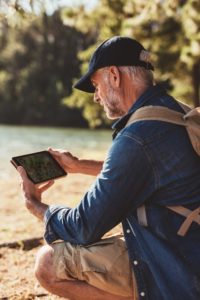 MOBILE MEETINGS
Virtual meetings are nothing new, except the programs are more advanced and advisors are finding that clients prefer meetings this way. Clients can meet with their advisor over the breakfast table, during their lunch hour or in the evening after the kids are in bed.  In turn, the advisor can be sipping an iced tea on the veranda of their hotel room or on a boat in the middle of the Mediterranean.  Virtual meetings allow advisors more time to meet with more clients and prospects, while adding more freedom to their schedule, like whitewater rafting the Grand Canyon!
For those advisors that still have clients that want to meet in person, they are ditching their 9-5 office in place of leasing office space for the day, week or year at places like Regus office space and meeting rooms (regus.com).
APPOINTMENT SCHEDULING
Scheduling client appointments is getting easier too, with the help of online meeting schedulers such as Calendly and TimeTrade.  No need to have someone near the phone or in the office, as clients and prospects can schedule their appointments in the middle of the night or early in the morning –whenever it is convenient for them, and you!
DIGITAL DOCUMENTS
With the increased use of client portals and programs such as Sharefile and Docusign, most documents never need to be printed, let alone mailed, making the need for someone to be in an office almost non-existent. If an advisor does need the ability for clients to mail documents, they are sent to the virtual assistant's office to be handled.
Still need the ability for a client to drop off a check?  By leasing a "secure lockbox" from firms such as regus.com, a client can leave documents with a REAL receptionist who will in turn place it in your secure lockbox for picking up after you're back from vacationing with your family.
INSTANT MESSAGING
Another cool tool that advisors are using when away from the office is Instant messaging (IM).  Again, it's nothing new, but how far these programs have come are!   Programs such as Slack or PinkNotes are more advanced and many have an archival feature that allows you to look back at the conversations.  Now, if you're hiking up a mountain and need to communicate with your virtual team, you can do it easily.
This is just the tip of the iceberg on how working with a Virtual Team and technology can help you go mobile in a BIG WAY!
If you're wondering what programs might be best for you, watch for our next article as we review the good, bad and ugly of some of the more popular programs that our advisors use.
Until then, if you have questions or want to schedule a conference call with us, simply reply to this email or schedule a call.
©2018 Sherry Carnahan
Spread The Word - Feel free to share!